Knockaloe's link with the Champions League
Tuesday 11th June 2019 9:52 am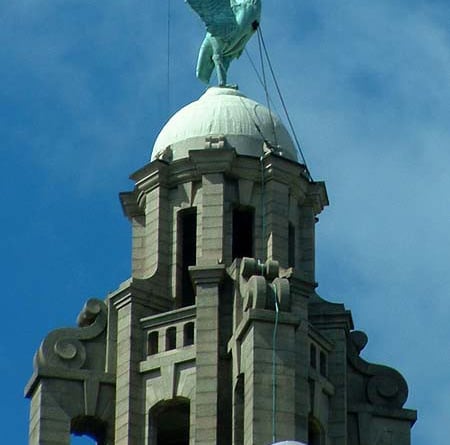 The Liver Building
Subscribe newsletter
Subscribe to our email and get updates right in your inbox.
There may not seem much that links the six-times European champions Liverpool FC and Knockaloe internment camp, but it's staring us all in the face.
As any Liverpool Football Club fan will tell you, the club has recently 'conquered all of Europe' and on shirts and flags across the world worn and flown by fans, there will be many designs but one constant, the Liver Bird.
The bird came to symbolise Liverpool as a city as early as the 13th century when King Henry III gave the city the right to use a common seal.
Throughout the centuries, the bird itself changed in design and began to resemble more of the birds which are seen across the city today.
And when the Royal Liver Building was built, it was decided two of the birds would be perched on the highest parts of the building and a competition was held to choose the design.
That competition was won by Carl Bernard Bartels, a German national who had been working London. His design was then realised in copper by the Bromsgrove Guild of Applied Arts and the birds were added when the building was completed in 1911.
The birds are named Bella and Bertie, one looking to the sea and the other over the city, are chained to the roof of the building, representing the idea that if one of the liver birds were to fly away, the city of Liverpool would fall.
A popular legend in the city is that Bella looks out to sea to keep an eye on sailors coming to the city and Bertie protects the people of the city itself.
After his work on the birds, Bartels was then interned at Knockaloe camp throughout the First World War, despite having lived in Britain for more than 20 years.
Following the end of the war, he was then forcibly repatriated to Germany, having to leave his British wife and family behind.
Bartels did later return to the UK and worked in Harringey, London, where he designed carvings for Durham Cathedral and later made artificial limbs during the Second World War. He died in 1955.
However, since his death, his most famous design has come to symbolise the city of Liverpool and been adopted by Liverpool FC and its fans around the world, having originally been the emblem for rivals Everton FC.
Knockaloe internment camp visitor centre is currently displaying artefacts designed by Bartels during his internment including his carved lion walking stick and a chess set he made from cotton reels which have been lent by his great grandsons.
The centre is open 10am to 5pm Wednesday to Saturday. For more information call 648484 or search Knockaloe on Facebook.
Comments
To leave a comment you need to create an account. |
All comments 0