Prisoners 'won't be painted as heroes' on TV show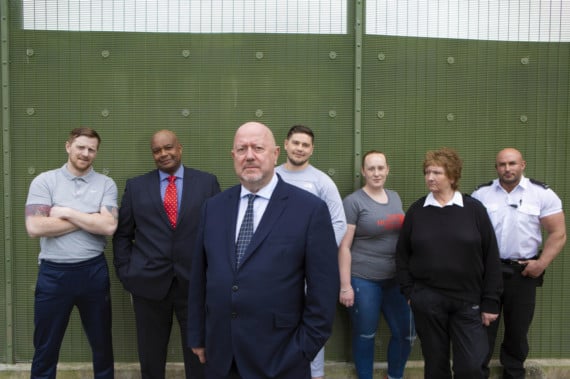 A publicity shot for the programme
Subscribe newsletter
Subscribe to our email and get updates right in your inbox.
'No chance' was the first response from the Isle of Man Prison governor when asked if ITV could film a documentary on-site.
Bob McColm, Isle of Man Prison governor and head of probation, admitted that he is unsure of how the public will react once 'The Best Little Prison in Britain' series airs on ITV starting today (Wednesday) at 8pm.
'I don't know how people will receive it,' he told the Examiner. 'It will get either love or hate because that's what prisons do. They polarise people.'
The six-part series focuses on prisoners with convictions of fraud, robbery, drug dealing and cyber crime as well as officers at the Jurby prison.
It follows relationships between inmates such as girlfriend and boyfriend Goldie and Lorraine, father and son Ross Sr and Ross Jr and a friendship between prisoner and prison officer Jonno and Jonesy.
The prison, which has some of the lowest re-offending rates in Europe, was chosen out of a number of jails.
Mr McColm said: 'My first response [to the documentary series] was "no chance". I've been involved in productions before and I know what it takes.'
His tune soon changed and he now hopes the series will 'make a positive impact' on how people view prison life and offenders re-entering the community.
'[The documentary] gives the public a window on a prison - you don't get to see prisons so openly. Prisoners are ordinary people, not a different species and they'll be seeing the highs and lows of the offenders,' he said.
'I just hope people watch it with an open mind and understand that our officers do a great job.
'You have some people who believe you should lock prisoners and throw away the key and we're also used to people thinking we run a holiday camp or a prisoner camp. We know what works: education and identifying risk.'
The prison, he said, gives offenders targets. If they reach them, they get rewards such as more access to visits or gym time. They can also earn parole. The purpose is to send prisoners into the community who are of a lesser risk.
Isle of Man Prison was picked because it is unlike any other prison Amazing Productions visited, said Tania Fallon, one of the executive producers of the series.
'I don't know anywhere else where the officers and prisoners are on first names terms,' she said. 'They all know each other because it's the Isle of Man and it's a small prison.'
The series will not 'paint the prisoners as celebrities or heroes', she said, but will show their journeys that have the support and guidance of probation services in the hope that they will make better decisions in future.
She added that despite what national headlines claim, it is not a sensationalist piece.
When asked about the ethical implications, as offenders on the show may re-enter the community, she replied: 'There's a lot of stigma and people can be a little narrow minded sometimes. What we hope with this programme is to show viewers true and real stories. In order to cut re-offending rates - which is one of the main missions of any prisons - prisoners must have jobs. People must employ prisoners.
'There's a collective responsibility otherwise you're going to go around and around.'
The production crew called living in the island for six months 'a real privilege', she said. They thanked the governor for his 'brave decision' on letting a TV crew into the prison over that time, as well as those who took part in the documentary.
Home Affairs Minister Bill Malarkey said that victims whose perpetrators are held at Isle of Man Prison were prioritised while making the documentary.
'My main concern was for the victims so they aren't seeing anything that may upset them in any way,' he said.
'The crew has not interviewed the hardened prisoners, such as those who have attempted murders, but those of less significant crimes.'
The message he wants the documentary to show is the work they put into rehabilitation, such as having good relationships between staff and offenders.
'It's keeping them out of prison again. I want people to see how forward-thinking we are,' he said.
Having worked at six prisons in the UK, Mr McColm believes there are substantial differences between our prison and UK jails.
'The cuts that have been made over there lead to unsafe environments,' he said. 'It's a much tougher job than I have. I've got a wonderfully-designed jail and we can write our own legislation. I've never had so much opportunity to do things differently.'
Comments
To leave a comment you need to create an account. |
All comments 0