Dean Harrison, Michael Dunlop and Peter Hickman all lapped in excess of 133mph during Wednesday evening's TT qualifying session.
Aboard his DAO Racing Kawasaki, Harrison kicked proceedings off by lapping at 133.284mph from a standing start.
He then went even better on his second lap with an effort of 133.514mph in a time of 16 minutes 57.329 seconds.
Fractionally behind him was Dunlop at 133.367mph (16:58.452), while Hickman was third in that class at 131.862mph.
But it was Hicky who led the way in the Superstock class as he lapped at an average speed of 133.284mph (16:59.087) on his FHO Racing BMW.
Dunlop scorched round the course at 132.694mph in a time of 17:03.619 on his Honda Fireblade, placing him second in the Superstock class ahead of Davey Todd who lapped at 131.711mph (17:11.259).
The leading local was Ramsey Rocket Conor Cummins not far behind his Milenco by Padgett's team-mate in 129.825mph (17:26.241).
After looking in fine fettle in the Superbike session, Jamie Coward topped the charts in the Supertwin session.
After Tuesday's session was altered because of an oil spill, speeds were good and Coward broke the 120mph barrier with a lap of 120.912mph (18:43.359).
Behind Coward, Mike Browne was second quickest in the Twins class with a lap of 119.787mph (18:53.916). That put him ahead of Josh Brookes on 116.937mph (19:21.550).
Not content with topping the Stockers, Hickman also set the pace in the Supersport session with a lap of 127.206mph (17:47.783).
Behind him, Harrison was next with 125.145mph (18:05.365) and Dunlop third at 124.973mph (18:06.85). Local man Mikey Evans was 11th quickest in 121.349mph (18:39.318).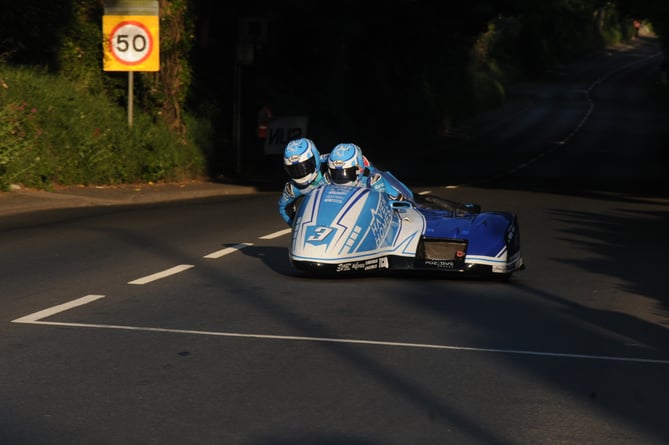 Ryan and Callum Crowe
(John Watterson)
The big news in the Sidecar class was that local lads Ryan and Callum Crowe were back out after having to miss Tuesday's session following an incident on Monday which saw Callum suffer an injury.
And the Manx duo rode solidly to lap at 114.128mph (19:50.141) as they got back into the swing of things.
Much like Tuesday evening, it was Ben and Tom Birchall who led the way in the three-wheelers, recording a lap of 118.523mph (19:06.003) from a standing start.
Squeezing in two laps, Pete Founds and Jeavan Walmsley opened with a lap of 117.786mph (19:13.174) which they then improved to 118.159mph (19:09.531) which put them only 3.5 seconds behind the Birchalls.
6.30pm - Superbike, Superstock and Supersport