This is the moment that Barclays was named winner of the Employer of the Year Award at the Media Isle of Man Awards for Excellence 2023.
In the video above, Graeme Sullivan from Barclays spoke to Media Isle of Man's Tom Curphey about the organisation and what the award means to them.
Media Isle of Man partnered with Paragon to present this special award.
Barclays' Martin Cowan received the award from Paragon's Martin Cowan during the ceremony.
The 17th annual event, held on Thursday night, was filled with success stories and showcased the very best of Manx businesses and community initiatives.
The glittering ceremony saw 16 prizes awarded to leading businesses and individuals from the local community, honoured for their achievements during the last 12 months, plus a special lifetime achievement award.
Adventurer, author and documentary-maker Monty Halls hosted the show, keeping the large crowd entertained before and between the award presentations.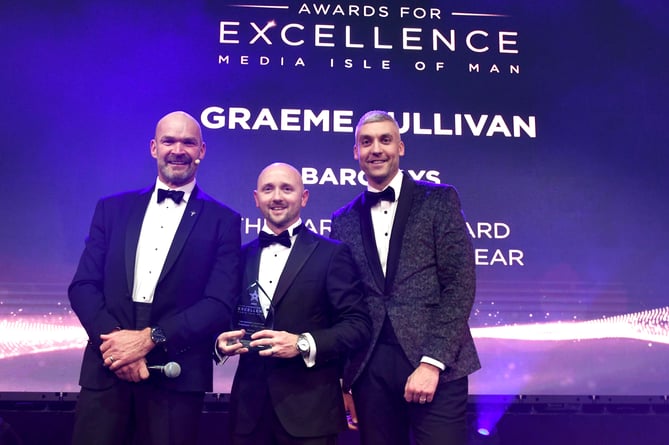 The 2023 Awards for Excellence hosted by Media Isle of Man - Paragons Employer of the Year award, won by Barclays
(-)
Monty has previously supported the RNLI, which is approaching its 200th anniversary, by pulling a replica lifeboat for 50 miles over the course of three days to raise funds for the charity.
A large number of RNLI volunteers were in attendance, along with all the finalists, the Lieutenant Governor, Chief Minister and the Mayor of Douglas.