Women's golf champs to start this weekend
Saturday 25th July 2020 10:00 am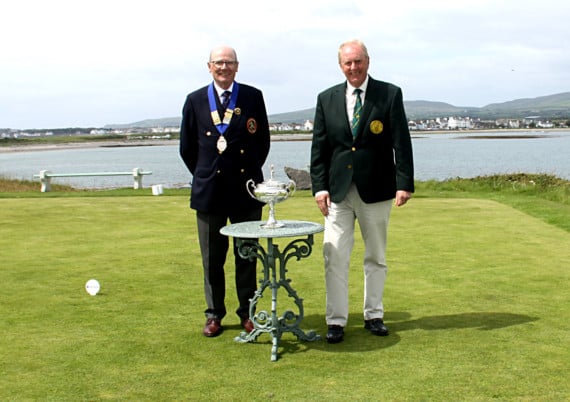 Isle of Man Golf president Gordon Pairman (left) and Castletown Golf Club captain Graham Harris (Photo: Niall Keenan)
Subscribe newsletter
Subscribe to our email and get updates right in your inbox.
The Grant Thornton-sponsored Isle of Man Women's Golf Championships get underway at Castletown Golf Club this weekend.
The men's competition began in earnest last Sunday with the top 64 handicappers going straight into the matchplay stages (see this week's Isle of Man Examiner).
The women's draw was made recently and was streamed live via GolfPirate TV, with 24 entries being drawn. With such a number, it was decided that there would be eight byes awarded and eight matches prior to the last-16 taking place.
Emma Noon, Shirley Price, Kitty Cassidy and - swapping her tennis racket for putter - multiple island tennis champion Karen Faragher will be in action in the opening eight matches, with two of the Dawson girls holding bye cards.
Reigning island women's champion Lynda Simpson will begin her defence in the preliminary round.
Interestingly, Lynda's son Charlie is the current professional at Castletown which is an inversion to Murray Crowe, the professional at Castletown for 43 years, whose daughter - the highly-talented Jackie Crowe - won the women's title in the early 1990s.
Some very nice encounters have been set in place, with one or two notable absences from the island starlets for one reason or another.
Women's draw: 8.30am Joy Morris (Ramsey), Shirley Price (PSM); 8.40am Barbara Monk (Peel), Karen Faragher (PSM); 8.50am Jenna Crawford (Mount Murray), Joy Platt (Ramsey); 9am Tilly Davies (Ramsey), Gail Corrin (KEB); 9.10am Emma Noon (Douglas), Jo Hicks (Douglas); 9.20am Cath Cassidy (Castletown), Karen Peters (KEB); 9.30am Irene Waterhouse (Rowany), Heather Skinner (Castletown); 9.40am Lynda Simpson (Castletown), Lindsey Tickell (Douglas); Byes - Kayleigh Dawson (Peel), Lea Dawson (Peel), Jasmine Heginbotham (Rowany), Jackie Murley (Douglas), Dee Lewis (Peel), Wendy Hogan (Ramsey), Loni Evans (Castletown), Gaynor Lees (Castletown).
The last 32 of the Isle of Man Men's Golf Championships will also take place at Castletown Golf Links on Sunday, and the draw is as follows:
Last 32 draw: 10am Tom Doyle (Mount Murray) v Simon Murray (Castletown); 10.10am Liam Cowin (Castletown) v Kevin Moore (Douglas); 10.20am Daryl Callister (Mount Murray) v Joe Raeside (Mount Murray); 10.30am Daniel Bell (Peel) v Paul McMullan (Mount Murray); 10.40am Lee Morgan (Mount Murray) v Jeff Ward (Mount Murray); 10.50am Sam Skelton (Castletown) v Andrew Challenor (Castletown); 11am Jamie Arneil (Mount Murray) v Mike Rae (Rowany); 11.10am Lee Hunt (Douglas) v Robert Braide (Castletown); 11.20am Gerald Bradley (Castletown) v Chad Wilby (Port St Mary); 11.30am Peter Glover (Douglas) v Jon Corke (Castletown); 11.40am Marcus Avery (Mount Murray) v Paul Lowey (Rowany); 11.50am Marc Harrison (Mount Murray) v Tommy Fenlon (Douglas); 12pm David W. Kinrade (Ramsey) v Robert Noon (Douglas); 12.10pm PJ. Vermeulen (Castletown) v Jack Gilbert (Rowany); 12.20pm Richard Hulme (Mount Murray) v Mark Pugh (Peel); 12.30pm Stuart Wallace (Mount Murray) v Richard Skillicorn (Douglas).
Comments
To leave a comment you need to create an account. |
All comments 0