Remarkable world equestrian title for Yasmin Ingham
Wednesday 21st September 2022 2:30 pm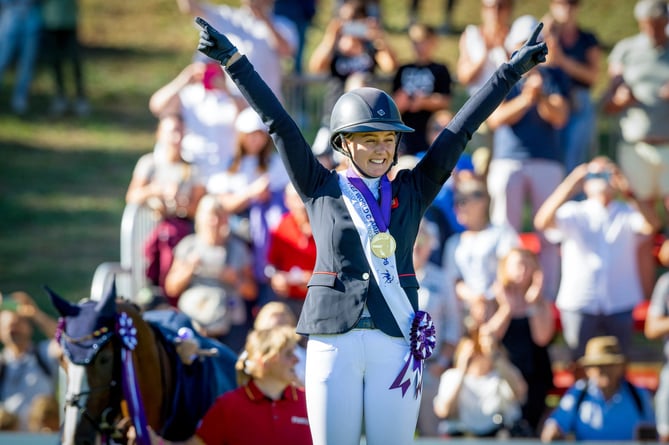 Yasmin Ingham with her gold medal at the FEI World Eventing Championships in Pratoni del Vivaro, Italy (Photo: FEI / Richard Juilliart)
(FEI / Richard Juilliart )
Subscribe newsletter
Subscribe to our email and get updates right in your inbox.
Yasmin Ingham secured individual gold at the FEI World Eventing Championships in Pratoni del Vivaro, Italy over the weekend.
The 25-year-old from Greeba scored a personal best in the dressage of 22.0, which is the second best dressage test from a British rider in 20 years and one of the top six dressage scores in the history of the event.
Riding the 11-year-old Banzai Du Loir, they didn't show any signs of nerves as they entered the stadium on the outskirts of Rome. With the arena bathed in sunshine, and patriotic Union Jack flags fluttering, you wouldn't think this was their senior championship debut.
With scores of eight and nine coming in from the three judges, they were trending below 23 penalties for the majority of the test and their final few movements improved the final score to 22.0 and second place overnight behind fellow Brit, the experienced Laura Collett riding London 52 who scored 19.3.
Speaking after her test, Ingham was delighted with Banzai's performance: 'It's the first time I've gone in the boards at an event and I knew he was completely listening and with me. Even through the crowds and cameras and atmosphere, he didn't seem to flinch or bother. I'm so proud of him, he's a really special horse.'
Saturday morning dawned dry and bright with a nice breeze so it was not too hot for the horses on the cross-country element.
Yasmin and Banzai set off in determined fashion and were glad to get the 'Slide' at fence seven out of the way. Banzai leaned a little to the right between the two skinny arrow heads at elements B and C, but Yasmin kept her line and pushed him inside the red on the right.
Speaking later on Saturday afternoon, Yaz said: 'All the combinations I rode to my plan A, apart from the last water where Banzai jumped quite steep in [a large log drop into water], and didn't land quite as far out as I'd have liked, so we just picked up five strides instead of the four .... he grew in confidence all the way and was just looking for the flags.
'It was hard work, very intense, I think it was the terrain more than anything, constantly up and down, I'm just so glad I'm sat on Banzai, he felt like he was really at home in the hills.'
Ingham was aware that she and Banzai were down on the first three at least, but was able to make up the time on the single fences in the middle of the course.
'As we got down onto the flatter ground it was easier to keep in a rhythm; when you're up and down the hills you have to prepare for the combinations but when you're on the flat it's a lot easier.'
They completed the cross-country phase with a clear round, only three seconds over the time, leaving them on a total score of 23.4 and now in silver medal position overnight going into the final day of show jumping.
Yasmin continued: 'I could never have even dreamed of being in the silver medal position although I know the horse is more than capable. I think so much of him, he deserves it so much as he is such an incredible all-round event horse.
'It's about Banzai, touch wood tomorrow he will show everyone that he really is the ultimate event horse.'
Groom Alison Bell turned Banzai out to perfection on Sunday morning, and he sailed through trot-up not looking like he had galloped for nearly 10 minutes the previous day.
Ingham entered the showjumping arena with no room for error. A single pole would have dropped her to 11th place. But as custom as she is to pressure, she and Banzai jumped a foot perfect round inside the time to pile the pressure on overnight leader Michi Jung. He could afford one rail and still take gold, but not two.
As Jung entered the arena, Team Ingham were celebrating what was thought to be the individual silver medal, but with the crowd's reaction to Jung hitting a rail, their attention turned to watching the arena.
When Jung's horse kicked out the last fence, Ingham fell to her knees in disbelief. She was the new world champion.
The show jumping course, designed by Uliano Vezzani was up to height and technical with a tight time. Of the original 89 starters, 68 competitors came forward for show jumping with only 12 managing to jump clear.
'It's the best day of my life, I never thought that this would happen at this event. I knew that Banzai was capable of a top result, for everything to come right on the same event is a real dream come true.
'I'm just delighted and so happy with the horse, a massive thank you to my amazing team who have been behind me all this week, and in particular Banzai's owners Sue Davies and Janette Chinn.'
PHOTOS: Hannah Cole Photography.
Comments
To leave a comment you need to create an account. |
All comments 0