The development of a new leisure and community centre at the Strang in Braddan, which is millions of pounds over budget, is 'moving along well', its manager says.
Cassi McAllister admits 'The Roundhouse' has had 'stumbling blocks' but it is aiming to open on November 17.
It has had a number of delays and Braddan Commissioners are now asking the Department of Infrastructure for permission to borrow £3.4 million from a bank for the extra cost and the potential for rates to be increased to pay for it.
Originally, the project had been budgeted at £6.5m.
The development will also see the creation of around 25 jobs and provide a range of leisure, health and community services including a pharmacy and a dentist.
The centre, which will include new offices for the local authority, is on the Strang Corner Field next to Palatine Health Centre.
Ms McAllister told local democracy reporter Emma Draper: 'There's been a lot of progress with the site staff moving on to the internal works.
'There's lots of doors architraves going on, finishing up with the plastering out the back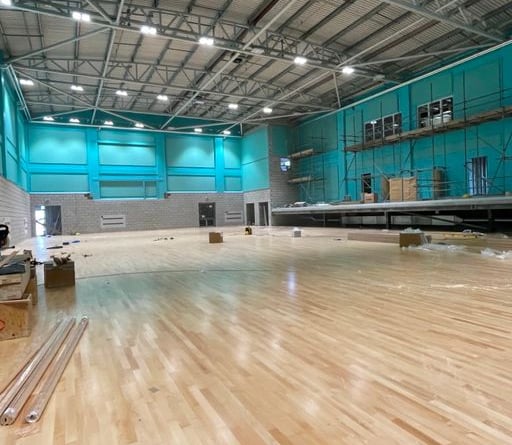 New sports hall at The Roundhouse
(Braddan Commissioners)
'A lot of earth is being moved in preparation for the cafe seating area and outdoor play equipment. There's paths going in. There really is a lot of activity on site at the minute, so it's pleasing to see.'
Asked if she was confident that the project would meet the deadline, she said: 'It's hard to say with any of these projects. We are looking at November 17 for handover and then, following that, there's probably going to be a staged opening depending on the tenants and what they need to do to fit their units out, in preparation for opening for business.
'As with any of these projects, we do get stumbling blocks, but we are looking at November 17.'
Asked what kinds of things could people expect then from the centre, Ms McAllister said: 'This centre is literally going have something for everyone.
'There's a big impression that it's just another sports hall up the road from the NSC.
'There is an amazing sports hall to begin with. The roof in the sports hall is set to competition standard, so it opens up for a variety of uses
'But you've got to remember this sports hall is not just a sports hall. It doubles as an auditorium, so it's got acoustic boarding throughout we, I mean we haven't explored every possibility yet.
'But as you walk into the centre, there is a pharmacy which is well placed next to Palatine GP surgery. There is a beauty therapist. There are therapy suites.
'One will be a physiotherapist, the other one will be a spa type suite.
'There's a 100-cover cafe as I said, with an outdoor seating area, there's a dentist.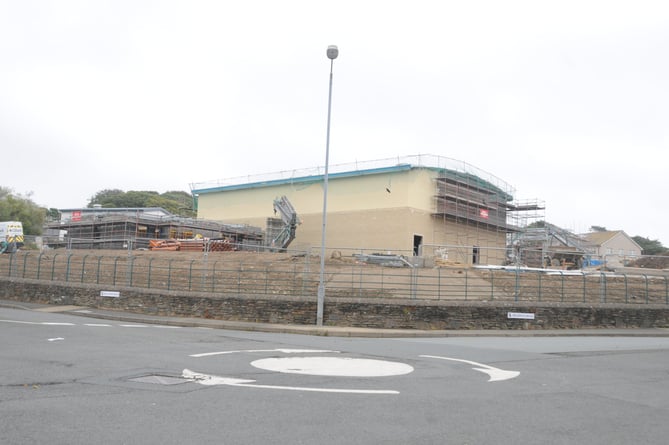 Braddan Commissioners' new building
'There will be a gym, there will be a baby sensory unit and there's also a function room. But when you take a look outside - there's a sensory garden, there's a 500-metre walking track and there's a village green.
'This is literally going to be a gem in the heart of the Braddan community.'
The site will also include 120 solar panels with an anticipated 50 kilowatts of energy gets generated.
The nursery has an air source heat pump with underfloor heating.
The six electrical vehicle charging stations.
All the tenants are going to be encouraged to recycle and the playground is being built with 'inclusivity' in mind for children with physical and cognitive abilities.
A reader has told us that they don't want to pay higher rates because of the project. Read the letter here.